In the era of virtual conflicts and information wars, it is increasingly difficult for businesses to protect their online reputation. After all, the "surge" can happen anywhere, not necessarily on your official page.
Such traffic must be found and neutralized as soon as possible. Maintaining a company's page is not a task that you can just give to freelancing, because reputational risks must be minimized in advance.
Any negative comments or brand mentions are picked up by the audience and go viral. Let's remember how a couple of years ago in the network went flashmob " do not buy Russian products!". The movement was actively gaining momentum in social networks and began to move to separate retail chains, brands whose presence in the Ukrainian market was under threat.
How do you prepare in advance for situations that threaten your reputation? First of all, we conduct a diversionary analysis of the client's vulnerable points and possible threats. Then we develop response templates and coordinate them with the client. Then all the specialists involved are trained. Thus, the specialist is able to see a new mention of the company in any corner of the network and immediately respond to it.
For example, your company was mentioned in a negative way on a large information public with a large number of subscribers. Automatically configured monitoring will be able to instantly snatch this content from thousands of comments on the network and on behalf of the company quickly parry and extinguish the negative at the very beginning, without allowing a resonant reaction.
Each client has the right to express their gratitude or complaint to the company. In these situations, the company must take care of its customers. Gratitude and neutral comments should be encouraged, and complaints and negativity should be neutralized.
What should I do in situations where negative traffic is coming to your page in large volumes? First of all, you need to understand the reason for its appearance, "eliminate the cause and then the disease will pass" (C) Hippocrates.
If the negative is constructive, we translate it to private and conduct personal communication to resolve issues, so we remove the negative from the page, preventing discussions that are seen by loyal customers.
If negative comments make their way to the top under the post, we neutralize them using the positive traffic method. Positive comments are a very important part of the page management, they look organic and neutralize the negative.
Criticism can also be destructive when it is not supported by anything and does not bear any understanding of the reason for its occurrence. It looks like this: "You are bad for nothing." But most importantly, the critic himself does not need help, but rather realizes his desire to speak out. For example, when our client carried out a large-scale campaign that attracted clients of other companies in the market, under the post of the announcement of the campaign, a destructive negative such as "Sharashkin's office", "You are deceivers", "Your shares are a fraud" was poured into all channels. After analyzing the users who left these comments, we realized that these are competitors ' bots. How did we extinguish this fire? They balanced the negative with positive responses and blocked the most aggressive haters.
Everyone now knows the concept: Hayter. They are of two types: Troll and consumer terrorism.
Trolls are divided into 5 subspecies:
Kicking sadist – to make the brand look stupid or throw it on another victim
Deliberate-black PR
Emotional
Constructive
Mistaken
The task of working out negative comments is to change the opinion of a negative client and the perception of the audience (everyone who has access to this information) in a neutral or positive direction. And the main thing to remember is that almost any Hatter (with the exception of an interested competitor's bot) can calm down with a simple "thank you" or a gift.it is easy to make brand ambassadors out of haters.
So how do you manage this systemically? Here comes to the rescue – Customer Care Service. This is not the work of sellers on a hotline, or writing comments on Facebook. These are processes that involve a large part of the company. This includes Finance, logistics, quality and sales service, and so on. To solve the problem quickly and comfortably, you need to set up monitoring of brand mentions in the network at the first stage, so as soon as a new review or comment appears, you will immediately find out about it. Next, you need to develop a statistical basis for implementing changes within the company – upgrading the structure, procedures, personnel and other management decisions that will require various pop-up situations with clients in the network. The next and final step is to develop and implement an optimal customer experience management system within the company: interaction algorithms, reallocation of authority, front-office training, motivation and control systems, decision-making processes and response standards
The most important point in building Customer care processes is to determine the Tone of Voice – what your brand will be in all responses in the form. For example, the network often pays McDonald's, somewhere for food, somewhere for service. But the company always responds in the same style-restrained and without any special emotional inclusions. But such responses must be ordered, verified, and standardized. So that each time the marketing Director does not sit and personally come up with answers, and ready-made solutions are taken from the database and published on the network.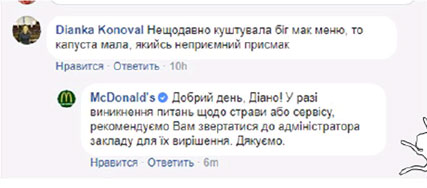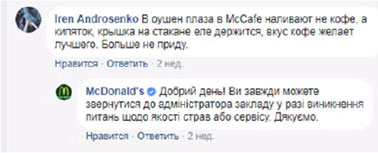 1.
> How much?
> 47 UAH 😉
> What BigMaists of?
> Hi! You can check ingredients on our website *link*
2.
> Hello, recently I bought BigMac and lettuce tasted kinda off.
> Hello, Diana! Please, forward your concerns to the supervisor of McDonald's you have bought the product from – they will solve any issue you may have.
3.
> Ocean plaza's McDonald's makes awful coffee – it is too hot, cup cap melts. Taste is awful – will never go there ever again.
> Hi! Please, forward your concerns to the supervisor of McDonald's you have bought the product from – they will solve any issue you may have.
Or another example, Monobank, which is known for its easy, non-clerical communication with customers: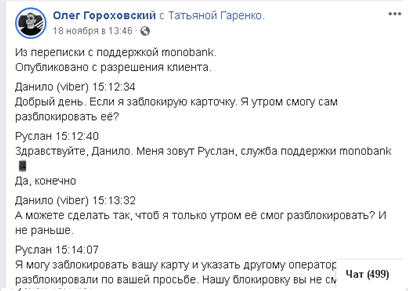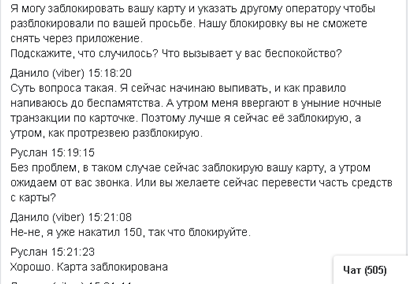 1.
Bits of dialogue with Monoban Support. Published with the client's permission.
>Danilo:
Hello! is it possible for me to block and then unblock my debit card by myself?
> Ruslan
Hello, Danilo. My name is Ruslan I will help you today.
Sure!
2.
> D: Can you please block my card 'till morning so I have no way to unblock or use it?
>R: I can block your card and tell other Support members not to unblock it. You will not be able to use the card or unblock it from our app. May I ask you is something wrong?
> D: I have a problem with alcohol and when I sober up my card balance often makes me very sad. It's better for me to block it now and unblock it later.
> R: I see. Should I block it now and wait for your call in the morning? Or would you like to transfer some funds?
> D: Nah, I already got some whiskey, block it.
3.
> R: Okay, card is blocked.
> D: Thanks. have a nice day.
> R: You too, happy to help.
You contact the company through social networks or by phone, the answer will be in one style and in one standard. It is this standard that each company determines for itself – a discreet construct, a free positive or a different style, it depends on the type of business and the global vision of the company, which is transferred to the Customer Care Service strategy.